Audiobook Narrator - Director - VO
I have a vibrant, warm, confident, resonant, engaging voice, and extraordinarily diverse life and career experience.  As a trained professional vocal artist, thespian and on-camera actor in possession of a home studio, I have a range and flexibility of voice, characters and peripherals that allow me to be well-suited to a variety of genres.
Storytelling is the essence of what I have done for the last 30 years, and I am using my voice to bring life to art.
All audiobook narrator, audiobook director, and voiceover engagements fall under union jurisdiction, SAG AFTRA.
Currently, relationships with multiple publishers, producers, directors and authors in a variety of genres throughout the publishing world allow for direct booking with specific partnerships including, but not limited to
Directed and Self-Directed Solo Narration, Dual and Multi Cast
IN
Mystery, Psychological Thriller, Suspense, Literary Fiction, Rom-Com / Contemporary / Paranormal Romance, Young Adult, New Adult, Cozy Mystery, Horror, Children's Literature, Women's Fiction, Middle Grade, Science Fiction, Fantasy, Graphic Novel, Gothic Horror,
AND
Biography / Memoir, Business / Management, Historical, Political, Social Sciences, Women's Issues, Climate Change Awareness, Pop Culture, Motivational, Self-Help, Inspirational and Poetry Nonfiction genres
WITH
Audible, The Audio Flow, Audiobook Empire, Audioworks, Bee Audio, Blackstone, Brilliance, Common Mode, Deyan Audio, Dreamscape, Findaway, Fireside Audio, Hachette, Harlequin, Harper, John Marshall Media, Lantern Audio, Lepton Films, Little Brown & Co, MacMillian, North Atlantic Books, Northern Lake Audio, Orange Sky Audio, Penguin Random House, Pink Flamingo Productions, Podium, Punch Audio, Scribd, Scribe Media, Simon & Schuster, Spotify, Tantor, Tydef Studios.
Feel free to ask for me by name at your favorite publishing house or production company.
The Sex Lives of African Women
Publisher's Summary
A conversation starter like Three Women but centering the experiences of women of color: a mellifluous chorus celebrating the liberation, individuality, and joy of African women's multifaceted sexuality.
Thanks to her blog, Adventures from the Bedrooms of African Women, Nana Darkoa Sekyiamah has spent decades talking openly and intimately to African women around the world about sex. For this book, she spoke to more than 30 African women across the globe while chronicling her own journey toward sexual freedom. 
We meet Yami, a pansexual Canadian of Malawian heritage, who describes negotiating the line between family dynamics and sexuality. There's Esther, a cisgendered hetero woman studying in America, by way of Cameroon and Kenya, who talks of how a childhood rape has made her rebellious and estranged from her missionary parents. And Tsitsi, an HIV-positive Zimbabwean woman who is raising a healthy, HIV-free baby.
Across a queer community in Egypt, polyamorous life in Senegal, and a reflection on the intersection of religion and pleasure in Cameroon, Sekyiamah explores the many layers of love and desire, its expression, and how it forms who we are.
In this confessional book, women control their own bodies and pleasure and assert their sexual power. Capturing the rich tapestry of sex positivity, The Sex Lives of African Women is a singular and subversive book that celebrates the liberation, individuality, and joy of African women's multifaceted sexuality.
Publisher's Summary
This program includes a preface read by David Remnick, the editor of The New Yorker, and an epilogue read by Congressman Jamie Raskin.
Celadon Books and The New Yorker present the report by the Select Committee to Investigate the Jan 6 Attack on the United States Capitol. 
On January 6, 2021, insurgents stormed the U.S. Capitol, an act of domestic terror without parallel in American history, designed to disrupt the peaceful transfer of power. In a resolution six months later, the House of Representatives called it "one of the darkest days of our democracy," and established a special committee to investigate how and why the attack happened. 
Celadon Books, in collaboration with The New Yorker, presents the committee's final report, the definitive account of January 6th and what led up to it, based on more than a year of investigation by nine members of Congress and committee staff with a preface by David Remnick, the editor of The New Yorker and a winner of the Pulitzer Prize. 
Select Committee to Investigate the January 6th Attack on the United States Capitol, David Remnick
Better Than We Found It Conversations to Save the World
Publisher's Summary
From the New York Times best-selling author of The Black Friend and a seasoned activist comes an indispensable guide to social and political progressivism for young people and anyone wanting to get more involved.
Every generation inherits the problems created by the ones before them, but no generation will inherit as many problems—as many crises—as the current generation of young people. From the devastations of climate change to the horrors of gun violence, from rampant transphobia to the widening wealth gap, from the lack of health care to the lack of housing, the challenges facing the next generation can feel insurmountable. But change, even revolution, is possible; you just have to know where to start. In Better Than We Found It, best-selling author Frederick Joseph and debut author Porsche Joseph make the case for addressing some of the biggest issues of our day. Featuring more than two dozen interviews with prominent activists, authors, actors, and politicians, this is the essential resource for those who want to make the world better than we found it.
Frederick Joseph and Porshe Joseph
THE EVERHEART BROTHERS OF TEXAS SERIES, BOOK 1
Publisher's Summary
After four years at the country's top culinary school and several years as head chef in her mother's restaurant, Rowan Townsend has built a notable reputation.
Her farm-to-table collard greens have long been bringing everyone to the yard, but limits on the restaurant's size have led to long waits. Looking to expand the restaurant, she enters a televised chef competition. The problem? Her infuriatingly talented nemesis from culinary school also enters. 
To the culinary world, Knox Everheart is restaurant royalty. As much as Rowan wants to deny it, he's a gifted chef. Rowan knows her arrogant archnemesis is confident he'll win – he's certainly given her a run for her money more times than she'd like to admit. But this time, she's ready to show him who's boss. 
Their rivalry soon sparks fireworks in the kitchen, and, as the competition heats up, so does Rowan's attraction to Knox. And somewhere between pasta and gumbo, they both need to decide what's worth fighting for.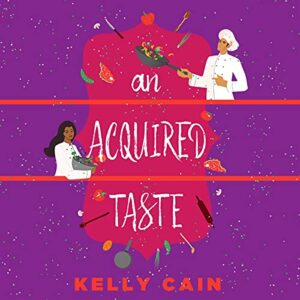 THE EVERHEART BROTHERS OF TEXAS SERIES, BOOK 2
Publisher's Summary
Kasi Blythewood has spent most of her life in the shadow of her famous film producer father, who's deliberately kept her under his thumb with tough love.
Ready to make a name for herself, she secretly heads to Austin for a film conference to rustle up some financing for her dream project – an indie series that showcases cuisine from around the world. 
When Kasi meets chef Declan Everheart, it's instant lust spiced with an intriguing business opportunity. Declan's father, a Michelin-starred chef, is interested in funding her film, but there is a sexy string attached – Declan must be a producer on her series. Not ideal. Kasi craves independence, and she knows business and pleasure never mix well, but she's exhausted all other options. 
Declan's more than just eye candy, and Kasi's not blind. She immediately discovers Declan's not just a natural producer and talented chef, he also shines on camera as the host. Can she convince him to break away from his father and build the life he wants…with her?
THE EVERHEART BROTHERS OF TEXAS SERIES, BOOK 3
Publisher's Summary
After losing her parents in high school, Ryan Landry grew up fast, solely focusing on supporting her younger twin sisters.
With the twins now preparing for college, the financial stakes are raised so Ryan enters a restaurant-manager-of-the-year contest. Her chances for the grand prize are strong—after all, she's the executive manager of Everheart Bar and Fine Dining, which is as famous for its exemplary service as it is for its mouth-watering food. 
The only thing standing in her way? The restaurant's Michelin star patriarch chef. Ryan meets his near-impossible challenges, except this creates another obstacle—increased temptation with her best friend and pastry chef Weston Everheart. She's fought to keep Weston in the friend zone: romantic fraternization means immediate firing, and she needs her job and the prize money more than ever. 
But when she realizes Weston has also been in love with her for years, it becomes impossible to maintain business as usual. Will Ryan play it safe or finally listen to her heart?