Audiobook Narrator - Director - VO
I have a vibrant, warm, confident, resonant, engaging voice, and extraordinarily diverse life and career experience. As a trained professional vocal artist, thespian and on-camera actor in possession of a home studio, I have a range and flexibility of voice, characters and peripherals that allow me to be well-suited to a variety of genres.
Storytelling is the essence of what I have done for the last 30 years, and I am using my voice to bring life to art.
All audiobook narrator, audiobook director, and voiceover engagements fall under union jurisdiction, SAG AFTRA.
Currently, relationships with multiple publishers, producers, directors and authors in a variety of genres throughout the publishing world allow for direct booking with specific partnerships including, but not limited to
Audible, The Audio Flow, Audiobook Empire, Audioworks, Bee Audio, Blackstone, Brilliance, Common Mode, Deyan Audio, Dreamscape, Findaway, Fireside Audio, Hachette, Harlequin, Harper, John Marshall Media, Lantern Audio, Lepton Films, Little Brown & Co, MacMillian, North Atlantic Books, Northern Lake Audio, Orange Sky Audio, Penguin Random House, Pink Flamingo Productions, Podium, Punch Audio, Scribd, Scribe Media, Simon & Schuster, Spotify, Tantor, Tydef Studio.
Feel free to ask for me by name.
The Confessions of Matthew Strong
Publisher's Summary
A wildly original, incendiary story about race, redemption, the dangerous imbalances that continue to destabilize society, and speaking out for what's right.
One could argue the story begins the night Allegra Douglass is awarded Distinguished Chair in Philosophy at her top-tier university in New York—the same night her grandmother dies—or before that: the day Allie left Birmingham and never looked back. Or even before that: the day her mother disappeared. But for our purposes Allie's story begins at the end, when she is finally ready to tell her version of what happened with a white supremacist named Matthew Strong.
From the beginning, Allie had the clues: in a spate of possibly connected disappearances of other young Black women; in a series of recently restored plantation homes; in letters outlining an uprising; in maps of slave trade routes and old estates; in hidden caves and buried tunnels; and finally, in a confessional that should never have existed. They just have to make a case strong enough for the FBI and police to listen. This is when Allie herself disappears.
Allie is a survivor. She survived the newly post-Jim Crow south, she survived cancer, and she will survive being stalked and kidnapped by Matthew Strong, who seeks to ignite a revolution. The surprise in this doesn't lie in the question of will she be taken; it lies in how she and her community outsmart a tactical madman.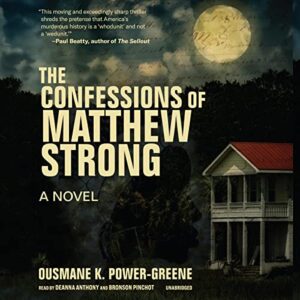 Publisher's Summary
A fascinating set of Black perspectives on what it takes to succeed today.
In this updated and revised edition of Take a Lesson: Today's Black Achievers on How They Made It and What They Learned Along the Way, award-winning journalist and author Caroline Clarke once again compels a dynamic list of Black business heroes and role models to openly share their own goals, hits, and misses, exploring what they overcame and what they're still working to overcome, not just for themselves, but for their peers and would be peers, who the equity odds are still against.
In this book, you'll find:
Updated interviews with Black corporate titans containing critically important lessons about business success
Deeply personal accounts of the journeys of Black superachievers from a diverse set of backgrounds and industries who are still rising in their industries
Insights into the ways the world has changed—and the ways it hasn't—since the release of the first edition in 2001
Perfect for Black students and early-career professionals looking for proven ways to navigate the unique challenges they'll face, Take a Lesson is also a great resource for allies seeking to gain perspective on a critically important set of experiences.
While these stories are specifically of Black success, their ability to inform, inspire, and reaffirm the value of ambition and perseverance, no matter the odds or era, transcends race.
Publisher's Summary
The inspiring true story of an enslaved woman who liberated an infamous slave jail and transformed it into one of the nation's first HBCUs. 
In The Devil's Half Acre, New York Times best-selling author Kristen Green draws on years of research to tell the extraordinary and little-known story of young Mary Lumpkin, an enslaved woman who blazed a path of liberation for thousands. She was forced to have the children of a brutal slave trader and live on the premises of his slave jail, known as the "Devil's Half Acre". When she inherited the jail after the death of her slaveholder, she transformed it into "God's Half Acre", a school where Black men could fulfill their dreams. It still exists today as Virginia Union University, one of America's first Historically Black Colleges and Universities.  
A sweeping narrative of a life in the margins of the American slave trade, The Devil's Half Acre brings Mary Lumpkin into the light. This is the story of the resilience of a woman on the path to freedom, her historic contributions, and her enduring legacy. 
THE EVERHEART BROTHERS OF TEXAS SERIES, BOOK 1
Publisher's Summary
After four years at the country's top culinary school and several years as head chef in her mother's restaurant, Rowan Townsend has built a notable reputation.
Her farm-to-table collard greens have long been bringing everyone to the yard, but limits on the restaurant's size have led to long waits. Looking to expand the restaurant, she enters a televised chef competition. The problem? Her infuriatingly talented nemesis from culinary school also enters. 
To the culinary world, Knox Everheart is restaurant royalty. As much as Rowan wants to deny it, he's a gifted chef. Rowan knows her arrogant archnemesis is confident he'll win – he's certainly given her a run for her money more times than she'd like to admit. But this time, she's ready to show him who's boss. 
Their rivalry soon sparks fireworks in the kitchen, and, as the competition heats up, so does Rowan's attraction to Knox. And somewhere between pasta and gumbo, they both need to decide what's worth fighting for.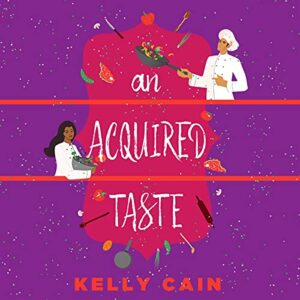 THE EVERHEART BROTHERS OF TEXAS SERIES, BOOK 2
Publisher's Summary
Kasi Blythewood has spent most of her life in the shadow of her famous film producer father, who's deliberately kept her under his thumb with tough love.
Ready to make a name for herself, she secretly heads to Austin for a film conference to rustle up some financing for her dream project – an indie series that showcases cuisine from around the world. 
When Kasi meets chef Declan Everheart, it's instant lust spiced with an intriguing business opportunity. Declan's father, a Michelin-starred chef, is interested in funding her film, but there is a sexy string attached – Declan must be a producer on her series. Not ideal. Kasi craves independence, and she knows business and pleasure never mix well, but she's exhausted all other options. 
Declan's more than just eye candy, and Kasi's not blind. She immediately discovers Declan's not just a natural producer and talented chef, he also shines on camera as the host. Can she convince him to break away from his father and build the life he wants…with her?
THE EVERHEART BROTHERS OF TEXAS SERIES, BOOK 3
Publisher's Summary
After losing her parents in high school, Ryan Landry grew up fast, solely focusing on supporting her younger twin sisters.
With the twins now preparing for college, the financial stakes are raised so Ryan enters a restaurant-manager-of-the-year contest. Her chances for the grand prize are strong—after all, she's the executive manager of Everheart Bar and Fine Dining, which is as famous for its exemplary service as it is for its mouth-watering food. 
The only thing standing in her way? The restaurant's Michelin star patriarch chef. Ryan meets his near-impossible challenges, except this creates another obstacle—increased temptation with her best friend and pastry chef Weston Everheart. She's fought to keep Weston in the friend zone: romantic fraternization means immediate firing, and she needs her job and the prize money more than ever. 
But when she realizes Weston has also been in love with her for years, it becomes impossible to maintain business as usual. Will Ryan play it safe or finally listen to her heart?