Audiobook Narrator - Director - VO
I have a vibrant, warm, confident, resonant, engaging voice, and extraordinarily diverse life and career experience.  As a trained professional vocal artist, thespian and on-camera actor in possession of a home studio, I have a range and flexibility of voice, characters and peripherals that allow me to be well-suited to a variety of genres.
Storytelling is the essence of what I have done for the last 30 years, and I am using my voice to bring life to art.
All audiobook narrator, audiobook director, and voiceover engagements fall under union jurisdiction, SAG AFTRA.
Currently, relationships with multiple publishers, producers, directors and authors in a variety of genres throughout the publishing world allow for direct booking with specific partnerships including, but not limited to:
Directed and Self-Directed Solo Narration, Dual and Multi Cast productions.
All Producers, Directors and Casting Directors may use my Industry Insider website to confirm availability for audiobook narration and directing productions.
If you are interested in my availability for VO, music production, stage or on camera and commercial bookings, please contact my appropriate agent.
If you are an Independent Author, please free to ask for me by name at your favorite publishing house, and production company, or email me directly with inquiries at info@deannaanthony.com.
Peruse the featured audiobook titles below.
The Sex Lives of African Women
Publisher's Summary
A conversation starter like Three Women but centering the experiences of women of color: a mellifluous chorus celebrating the liberation, individuality, and joy of African women's multifaceted sexuality.
Thanks to her blog, Adventures from the Bedrooms of African Women, Nana Darkoa Sekyiamah has spent decades talking openly and intimately to African women around the world about sex. For this book, she spoke to more than 30 African women across the globe while chronicling her own journey toward sexual freedom. 
We meet Yami, a pansexual Canadian of Malawian heritage, who describes negotiating the line between family dynamics and sexuality. There's Esther, a cisgendered hetero woman studying in America, by way of Cameroon and Kenya, who talks of how a childhood rape has made her rebellious and estranged from her missionary parents. And Tsitsi, an HIV-positive Zimbabwean woman who is raising a healthy, HIV-free baby.
Across a queer community in Egypt, polyamorous life in Senegal, and a reflection on the intersection of religion and pleasure in Cameroon, Sekyiamah explores the many layers of love and desire, its expression, and how it forms who we are.
In this confessional book, women control their own bodies and pleasure and assert their sexual power. Capturing the rich tapestry of sex positivity, The Sex Lives of African Women is a singular and subversive book that celebrates the liberation, individuality, and joy of African women's multifaceted sexuality.
Publisher's Summary
An edgy, bitingly funny debut about a queer, half-Nigerian college sophomore who, enraged and exhausted by the racism at her elite college, is determined to reveal the truth about The Unfortunates—the unlucky subset of Black undergrads who Just. Keep. Disappearing.
Sahara is Not Okay. Entering her sophomore year, she already feels like a failure: her body is too much, her love life is nonexistent, she's not Nigerian enough for her family, her grades are subpar, and, well, the few Black classmates she has are vanishing—or dying. Sahara herself is close to giving up: depression has been her longtime "Life Partner." She believes that this narrative—taking the form of an irreverent, no-holds-barred "thesis" addressed to the powerful University Committee that will judge her—may be her last chance to document the Unfortunates' experience before she joins their ranks…But maybe, just maybe, she and her complex community of BIPOC women aren't ready to go out without a fight.
Publisher's Summary
This program includes a preface read by David Remnick, the editor of The New Yorker, and an epilogue read by Congressman Jamie Raskin.
Celadon Books and The New Yorker present the report by the Select Committee to Investigate the Jan 6 Attack on the United States Capitol. 
On January 6, 2021, insurgents stormed the U.S. Capitol, an act of domestic terror without parallel in American history, designed to disrupt the peaceful transfer of power. In a resolution six months later, the House of Representatives called it "one of the darkest days of our democracy," and established a special committee to investigate how and why the attack happened. 
Celadon Books, in collaboration with The New Yorker, presents the committee's final report, the definitive account of January 6th and what led up to it, based on more than a year of investigation by nine members of Congress and committee staff with a preface by David Remnick, the editor of The New Yorker and a winner of the Pulitzer Prize. 
Select Committee to Investigate the January 6th Attack on the United States Capitol, David Remnick
Publisher's Summary
From the New York Times best-selling author of The Black Friend and a seasoned activist comes an indispensable guide to social and political progressivism for young people and anyone wanting to get more involved.
Every generation inherits the problems created by the ones before them, but no generation will inherit as many problems—as many crises—as the current generation of young people. From the devastations of climate change to the horrors of gun violence, from rampant transphobia to the widening wealth gap, from the lack of health care to the lack of housing, the challenges facing the next generation can feel insurmountable. But change, even revolution, is possible; you just have to know where to start. In Better Than We Found It, best-selling author Frederick Joseph and debut author Porsche Joseph make the case for addressing some of the biggest issues of our day. Featuring more than two dozen interviews with prominent activists, authors, actors, and politicians, this is the essential resource for those who want to make the world better than we found it.
Frederick Joseph and Porshe Joseph
Publisher's Summary
Learn how to replenish your spirit and tend to your soul with this 49-day devotional created by clinical psychologist, theologian, and author Chanequa Walker-Barnes.
Taking care of ourselves is essential. But while many of us are focusing on our physical, emotional, and mental well-being, we're overlooking an aspect of ourselves that needs nourishing as well—our souls. This 49-day interactive devotional from clinical psychologist and theologian Dr. Chanequa Walker-Barnes shows how to begin caring for your spiritual self in only forty-nine days.
Each day includes short, accessible, and practical prompts, practices, scripture passages, hymns, and prayers that help you nurture your spirit and offer insight and guidance on:
Practicing self-compassion
Setting boundaries
Accessing pleasure and joy
Identifying priorities and establishing routines that reflect your values
Understanding why self-care is subversive and reparative in social justice
And more.
Inspiring and practical, ruminative and actionable, Sacred Self-Care teaches you how to craft a sustainable self-care practice to care for yourself as the beautiful and wonderful creation of God that you are.
Publisher's Summary
When set adrift in the universe, some things are worth holding onto.
Titan Valentino has been offered a job they can't refuse.
Tai, a gender-neutral courtesan, receives a scandalous proposition: seduce an actor's virgin fiancée. The money is enough to pay off Tai's crushing medical debt, a tantalizing prospect.
Too bad Aisha Malik isn't the easy target they expect.
A standoffish historian who hates to be touched, she's laser-focused on her career, and completely unaware that her marriage has been arranged behind her back. This could be the one instance where Tai's charm and charisma fail them.
Then an accidental heist throws them together as partners in crime.
Fleeing from the Authorities, they're dragged into one adventure after another: alien planets, pirate duels, and narrow escapes from the law. As Tai and Aisha open up to each other, deeper feelings kindle between them. But that reward money still hangs over Tai's head. Telling Aisha the truth could ruin everything…
Their freedom, their career, and their blossoming love all hang in the balance. To save one might mean sacrificing the rest.
Publisher's Summary
Inspired by her own foremothers' legacies and the friendships formed throughout her life, Rozella Kennedy centers and celebrates the stories of 100 Black, Brown, Asian, and Indigenous women—both famous and little-known—who changed the course of US history.
In Our Brave Foremothers, discover an intergenerational, intercultural bouquet of Black, Brown, Asian, and Indigenous women lifted into the significance that they deserve.
• From Etel Adnan to Mary Jones, Thelma Garcia Buchholdt to Pura Belpré to Zitkála-Šá, here are 100 women of color who left a lasting mark on United States history. Including both famous and little-known names, the thoughtful profiles and detailed portraits of these women herald their achievements and passions.
• Following each entry is a prompt that asks you to connect your life to theirs, an inspiring way to understand their influence and the power of their stories. To consider on a deeper level the devotedness of Clara Brown, the fearlessness of Jovita Idár, the guts of Grace Lee Boggs, or the selflessness of Martha Louise Morrow Foxx. And to be as brave as we each can be—and then beyond that.
The Art of Chilling Out for Women
Publisher's Summary
Banish burnout, worry, and stress once and for all with these practical tips and strategies for relaxing, going beyond simple self-care to chill your mind, body, and soul.
Women are resilient leaders driven to achieve but can often feel stressed out. They are being adversely impacted by the Covid-19 "she-cession" with less and less women returning to the workforce due to the multi-faceted responsibilities they face inside and outside of their homes. And in a world where heart disease is the leading cause of death for women, they can't afford to wait to relax.
Author Angela D. Coleman's prescription in The Art of Chilling Out for Women teaches women the value of chilling out. Here women can learn to seek self-awareness, self-love, happiness, peace, and health. With this essential resource, women will eliminate burnout, stress, and excessive personal sacrifice with practical tips and holistic wellness, like creating cleansing spaces and sacred spots, releasing childhood trauma, establishing boundaries, increasing compassion and self-love, eliminating doubt, regulating with herbs, and listening to your physical self, and much more. This book is a must-have for any woman burdened by taking on the world.
Publisher's Summary
 Join Us on a journey through the life of Rosa Parks, the woman who changed history with a single act of courage.
From her childhood in Alabama to her role as a leader in the civil rights movement, Rosa Parks' story is one of determination resilience, and a deep commitment to justice.  Along the way, you'll learn about the segregation laws of the time, the Montgomery bus boycott, and the impact of the civil rights movement on the world we live in today.
In That Endlessness, Our End
Publisher's Summary
Come closer, friend. Let me tell you a story.
Heard the one about the Airbnb that eats your dreams or the iron-crowned king who preys on his own bloodline from the air, still smoldering centuries after being burnt alive? How about the cloudy antique bottle you can wish your excess rage inside, or that crooked alley down which something waits to replace your disappointing child with a far more pleasant facsimile? We all know the truth, especially in times like these—in an anxiety-ridden, sleepless world such as ours, it's only ever our very worst dreams that come true. Here streets empty out and people pull themselves apart like amoebas, breeding murderous doppelgangers from their own flesh; houses haunt, ideas possess, and a cold and alien moon stares down, whispering that it's time to spawn. New myths rise and ancient evils descend. From the seemingly mundane terrors of a city just like yours to all the most dark and distant places of a truly terrible universe, nothing is as it seems … not even that dimly-recalled cinematic memory you've been chasing all these years, the one you think might be just something you stumbled upon while flipping through channels after midnight. The one that still disturbs you enough to raise a cold sweat all over your body, whenever you try to will its details clear.
Hot on the heels of her 2018 This Is Horror Award–winning short story collection Spectral Evidence, critically horror author Gemma Files compiles fifteen more of her most startling recent nightmares—a creepily seductive downward spiral of dark poetry and existential dread, entirely suitable to the slow apocalypse going on all around us. So take your mind off your troubles and send it somewhere the rules still operate, if only to punish those who violate them.
Publisher's Summary
Mean Girls meets It's Kind of a Funny Story as two teenage girls' worlds collide when one attempts suicide to avoid toxic popularity.
Carter Harper may have created an award-winning app and have a 3.93 grade point average, but her successes are overshadowed by brutal bullying, depression, and loneliness. Tired of being treated as the popular girls' plaything, Carter thinks her only choice is to die by suicide.
Abby Wallace is one of the most popular girls in school, subordinate only to Kelsey, her best friend with benefits. The ambitious poet destroys reputations without care to prove how cool, cruel, and strong she is, all while pushing down her past trauma and secret guilt.
Carter and Abby's tumultuous relationship comes to a boiling point when Abby stops Carter from attempting suicide. But what happens when they have to protect one another from Kelsey's harmful antics?
If Carter and Abby can stand each other for more than three minutes, they can stop Kelsey from hurting more girls—and maybe become friends in the process.
In the tradition of Courtney Summers and Laurie Halse Anderson, Death by Society questions how far we will go to gain power over our lives—and what happens when we use our voices for both good and to harm others.
In That Endlessness, Our End
Publisher's Summary
"Bell brings the diverse world of competitive rodeo to life with vivid details and enhances the slow burn, opposites attract romance with chemistry and banter. Readers will be captivated." Publishers Weekly, starred review.
The rules of being a rodeo queen: no creases, no boyfriends, no mistakes.
With more crowns to her name than hairs on her head, Sierra Quintanilla knows the rulebook inside out. And with Closed Circuit, the reality-TV-meets-rodeo-tour competition, back for a second season, she's ready to play her part to perfection. But no one is actually perfect. And nothing is more dangerous to a rodeo queen than desire…
As a teenager, Diablo Sosa was sentenced by a judge to attend a Houston youth rodeo program. Now an attorney at law, Diablo spends his days seeking justice. He would never have returned to the arena but for his old mentor, so why does the pounding in his blood feel like a homecoming? Or perhaps that's down to Sierra, the hostess, who shines brighter than the studio lights.
From Houston to New Orleans, from Miami to Las Vegas, Sierra and Diablo wrestle with a connection that could cost them everything—or else lead them right to where they're meant to be…
A Closed Circuit Novel
Publisher's Summary
Roberto Fratelli, proprietor of the antiques store Waited4You, is the meanest man in Marthasville, Virginia. So when he puts the business up for sale, the other merchants in town are overjoyed. And now the business has a prospective buyer: local resident and the newly elected mayor's mother, Camille Benson, who's thrilled at the prospect of getting into the antiques business. During a celebration in honor of Camille's new venture, her best friend, Opal, tells her about finding a letter, purportedly from Sally Fairfax to George Washington, dated 1756, hidden under a chair in the shop. When they return to retrieve the cache, they find Roberto's lifeless body on the floor—and no letter.
Police question Ella Coleman, Roberto's ex-wife, and discover that her current husband supplied Roberto with oh-so-faux Victorian furniture. Did the two cheat the wrong customer? Or could the murder be connected to an earlier theft of rare books from the shop—a theft Roberto never reported?
As Camille prepares to confront these questions and investigate the murder, she knows she might become the latest knock-off.
The Confessions of Matthew Strong
Publisher's Summary
A wildly original, incendiary story about race, redemption, the dangerous imbalances that continue to destabilize society, and speaking out for what's right.
One could argue the story begins the night Allegra Douglass is awarded Distinguished Chair in Philosophy at her top-tier university in New York—the same night her grandmother dies—or before that: the day Allie left Birmingham and never looked back. Or even before that: the day her mother disappeared. But for our purposes Allie's story begins at the end, when she is finally ready to tell her version of what happened with a white supremacist named Matthew Strong.
From the beginning, Allie had the clues: in a spate of possibly connected disappearances of other young Black women; in a series of recently restored plantation homes; in letters outlining an uprising; in maps of slave trade routes and old estates; in hidden caves and buried tunnels; and finally, in a confessional that should never have existed. They just have to make a case strong enough for the FBI and police to listen. This is when Allie herself disappears.
Allie is a survivor. She survived the newly post-Jim Crow south, she survived cancer, and she will survive being stalked and kidnapped by Matthew Strong, who seeks to ignite a revolution. The surprise in this doesn't lie in the question of will she be taken; it lies in how she and her community outsmart a tactical madman.
Publisher's Summary
The inspiring true story of an enslaved woman who liberated an infamous slave jail and transformed it into one of the nation's first HBCUs. 
In The Devil's Half Acre, New York Times best-selling author Kristen Green draws on years of research to tell the extraordinary and little-known story of young Mary Lumpkin, an enslaved woman who blazed a path of liberation for thousands.  She was forced to have the children of a brutal slave trader and live on the premises of his slave jail, known as the "Devil's Half Acre". When she inherited the jail after the death of her slaveholder, she transformed it into "God's Half Acre", a school where Black men could fulfill their dreams. It still exists today as Virginia Union University, one of America's first Historically Black Colleges and Universities.  
A sweeping narrative of a life in the margins of the American slave trade, The Devil's Half Acre brings Mary Lumpkin into the light. This is the story of the resilience of a woman on the path to freedom, her historic contributions, and her enduring legacy. 
THE EVERHEART BROTHERS OF TEXAS SERIES, BOOK 1
Publisher's Summary
After four years at the country's top culinary school and several years as head chef in her mother's restaurant, Rowan Townsend has built a notable reputation.
Her farm-to-table collard greens have long been bringing everyone to the yard, but limits on the restaurant's size have led to long waits. Looking to expand the restaurant, she enters a televised chef competition. The problem? Her infuriatingly talented nemesis from culinary school also enters. 
To the culinary world, Knox Everheart is restaurant royalty. As much as Rowan wants to deny it, he's a gifted chef. Rowan knows her arrogant archnemesis is confident he'll win – he's certainly given her a run for her money more times than she'd like to admit. But this time, she's ready to show him who's boss. 
Their rivalry soon sparks fireworks in the kitchen, and, as the competition heats up, so does Rowan's attraction to Knox. And somewhere between pasta and gumbo, they both need to decide what's worth fighting for.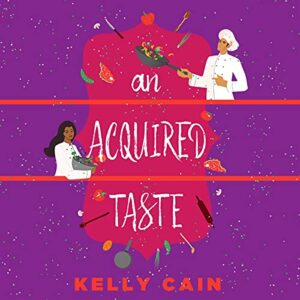 THE EVERHEART BROTHERS OF TEXAS SERIES, BOOK 2
Publisher's Summary
Kasi Blythewood has spent most of her life in the shadow of her famous film producer father, who's deliberately kept her under his thumb with tough love.
Ready to make a name for herself, she secretly heads to Austin for a film conference to rustle up some financing for her dream project – an indie series that showcases cuisine from around the world. 
When Kasi meets chef Declan Everheart, it's instant lust spiced with an intriguing business opportunity. Declan's father, a Michelin-starred chef, is interested in funding her film, but there is a sexy string attached – Declan must be a producer on her series. Not ideal. Kasi craves independence, and she knows business and pleasure never mix well, but she's exhausted all other options. 
Declan's more than just eye candy, and Kasi's not blind. She immediately discovers Declan's not just a natural producer and talented chef, he also shines on camera as the host. Can she convince him to break away from his father and build the life he wants…with her?
THE EVERHEART BROTHERS OF TEXAS SERIES, BOOK 3
Publisher's Summary
After losing her parents in high school, Ryan Landry grew up fast, solely focusing on supporting her younger twin sisters.
With the twins now preparing for college, the financial stakes are raised so Ryan enters a restaurant-manager-of-the-year contest. Her chances for the grand prize are strong—after all, she's the executive manager of Everheart Bar and Fine Dining, which is as famous for its exemplary service as it is for its mouth-watering food. 
The only thing standing in her way? The restaurant's Michelin star patriarch chef. Ryan meets his near-impossible challenges, except this creates another obstacle—increased temptation with her best friend and pastry chef Weston Everheart. She's fought to keep Weston in the friend zone: romantic fraternization means immediate firing, and she needs her job and the prize money more than ever. 
But when she realizes Weston has also been in love with her for years, it becomes impossible to maintain business as usual. Will Ryan play it safe or finally listen to her heart?